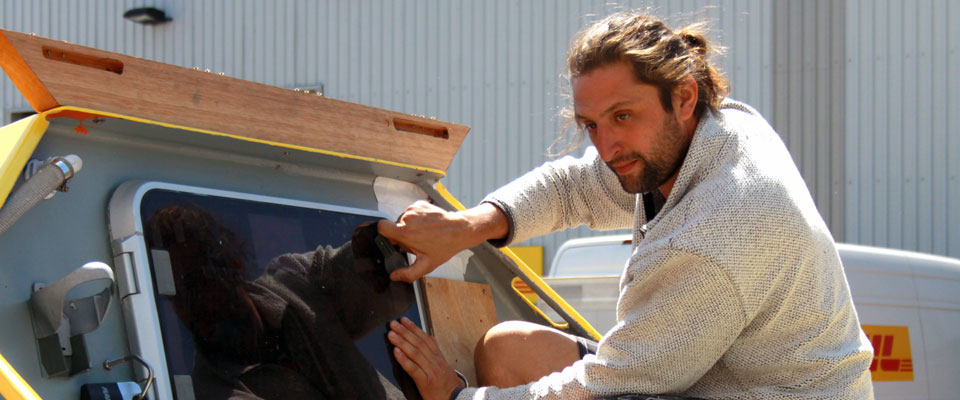 As I walked out of the airport in Iquitos I remembered why I love this city so much. Firstly it's warm, unlike the capital Lima, which, weather wise, reminds me of Manchester. In Iquitos even at midnight the temperature is high.
Thanks to Mike Collis, who created the Great River Amazon Raft Race 15 years ago (and if anyone is interested in an adventure down the Amazon then I cannot recommend that race enough - it is cheap and amazingly well run), a local ex-pat turned taxi driver was waiting for me. Dave drives a taxi in Iquitos and loves the city as much as I do. However as I walked towards the cars, he walked towards the taxi bikes: perfect. As we zipped through the streets of Iquitos - still quite busy considering it was midnight on a Sunday - I considered what my next few days will be like.
It's been a difficult 24 hours. You don't realise the emotional strain such a long journey can take on you, on top of all of the other worries that I have in my life at the moment. I think if I am being honest with myself then I have been cruising through life for the past few months. I've let things just happen around me and things that I would normally deal with to save getting stressed I've let slip. Instead of approaching problems or tasks like normal I have casually dealt with things as though nothing was wrong. I married my fiancé of four years last week, and now I am sat in a hotel reception overlooking the river Amazon; now that's running away from your problems. Even on the morning of the wedding I wasn't letting things sink in - people asked me how I was feeling and I would shrug my shoulders like it was any other day - until of course Sophie walked down the aisle; that's when it became real. There have also been worries about leaving everything just right at work; the College and the boat club have been very supportive but I still need to have everything ready for the students when they start in October, don't I? I know that like all other students they think they can coach themselves, but I need to leave some structure for them.
And of course there is the row. That's the big concern now. There is nothing else I can do, sat here, to affect anything else in my life now apart from the row. And the worrying thing is that the boat hasn't arrived here yet. It was supposed to be here on the 14th, and I was looking forward to getting it ready for Mark's arrival, but now it looks like I have a bit of enforced R&R (which I think I need). There is so much stuff that I haven't finished yet and this is my chance to complete them. Training plans, blogs, planning the rowing route, Facebook groups. All these little jobs that have been brushed aside will now get my full attention as I sit in the sun and the heat and dip into the dodgy-looking pool.
I also get to prepare myself mentally. Last night after I had arrived I suddenly realised how nervous and scared I really am - it just hit me like a tidal wave knocking me off my feet. I pride myself on being positive and mentally strong but last night I realised how much work I need to put into this part of my personality, and with the jetlag and lack of sleep I suddenly fell apart. You see Mark and I have so many big changes occurring in our lives at the moment, the reality of it is that neither of us should be attempting to row the length of the Amazon river in 12 days' time but then if we don't then who will? Also to be away from all of our loved ones for two months, along with all of the risks that face us, is a very daunting prospect. Mark and I have grown closer during the planning of this, we have begun to be very honest and open about a lot of very private parts of our lives, yet we have only really scratched the surface as far as friendships go. As Mark arrives and we get ready to row the pressure is going to build, and our emotions will become so painful and real - they feel bad enough as it is now. But at least by that point we will be much closer and will be able to support each other fully. And more importantly we will have someone with us who is going through the same feelings.
So what about right now? I am pleased to be here, but do I wish I was still in Cambridge? Yes I do, more than I ever thought I would. Right now I am sat here alone and reality is kicking in. The only way out of this is to get in a boat and row, and that's a good thing because if this is the only way out that I can see then at least we will complete our adventure. But this is also only day one of Iquitos so I know that as I recover, rest and more importantly relax, I will become more focused on enjoying what is ahead. There are lots of people to meet, friends to catch up with and experiences to have, so it's probably time I got on with that x