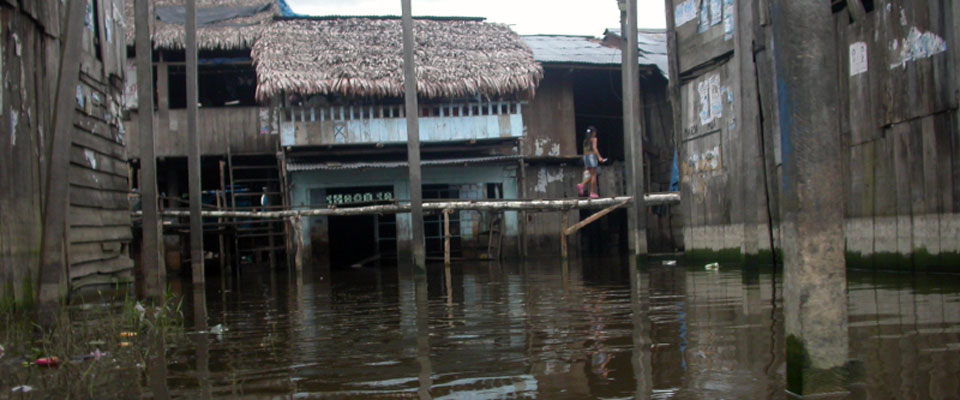 What a change from my last blog from Iquitos! You may have noticed that I felt quite down on my arrival - well this city has changed that, and now I remember why I fell in love with it in the first place. How has the change come about? Firstly I have caught up with friends that we made when I came here last year with Clare College boat club; we truly are an international boat club. Also, local knowledge is what we need to make this a success: Dave the taxi driver had mentioned that I shouldn't turn left out of my hotel at night as someone was stabbed there recently. Like most things recently I let the information pass me by, but the next afternoon I received a call from reception: Patti was here.
Patti Vasquez works for the local government in tourism and I had met her last year during the raft race. I'd got in touch to let her know about the row, and she arrived with a colleague, Melida Wong, who spoke English better than I speak Spanish. The top and tail of it is that I was whisked away to another hotel in Iquitos because there was a fear I was not safe. It's a bit daunting to be rushed away from somewhere by two people that to be fair I don't really know that well, with all sorts of thoughts running through my head (including 'maybe it's a scam?'). We arrived at a set of doors in a wall and I thought 'this is it, the shakedown'. I was wrong - it was a hotel called La Casa Fitzcarraldo (look it up at www.casafitzcarraldo.com; it has a great heritage and previous guests include Mick Jagger), and they had arranged a great deal for me and Mark.
So I'm safe in my new hotel now, but that's just the start of the activities. Melida - also known as China, or little China as she is part Chinese (who said racism is dead) - sent her son over today to entertain me and show me all the sights. I always shy away from the tourist route when I go away. It started in Egypt when I was the only person on the coach to dare to enter the souk. If you don't immerse yourself in an area fully then you miss the real place. Luis arrived at breakfast; he is a young lad, who speaks good English and owns a motorbike (my family and loved ones might want to skip over this next part).
As an individual I know that I am very much a risk taker. I also know that this personality type generally 'comes a cropper' eventually, but I couldn't resist the opportunity to bike through the streets of Iquitos. Luis, smoking and riding pillion, insisted we ride faster and weave through the traffic, and it didn't take much of a twist of my arm. Eventually I came to, just before we set off for Nauta just for the fun of it, and suggested we head back.
Luis showed me the zoo (I worked part-time at Shepreth Wildlife Park and know how hard they work there, and as that zoo was founded on a love of conservation and preservation I'm always wary of other zoos), and we headed back via the scenic route – or, as Luis called it, 'the real Iquitos' – and wow, was he right. We entered Belem Market on the bike and started to weave through the streets with Luis giving me directions as he explained this was the area with the most poverty and crime. As we rode over the brow of a hill the town unfolded; a town of properties all built on stilts. Luis told me that as it's summer now the Amazon is low (which is why we chose this time of year), so all of the houses are clear of the river - however normally the river floods the area, so everyone is living on reclaimed land. This is why it's so cheap here. We rode again, this time right through the centre of the market through alleys as narrow as the bike, horn blaring to keep the customers out of our way. We stopped so I could take a few photos and this is when it all went wrong.
It's a problem with the boat you see. Our shipping agent hasn't sent the correct form or signed the right box and now Karen from Lima wants to take all of our food and medicines off the boat and impound them. I'm stood in the centre of this market hearing the news on a local phone and feeling completely helpless. I try all of my best tricks: flirting, apologising, playing dumb (this one is easy), but not even the offer of paying whatever it costs is enough to get the boat out. Suddenly everything is in jeopardy and we race back to the hotel.
Patti and Melida join Luis and I and they set to work, calling every connection they have, phoning our fixers (even I didn't have their number), contacting the head honcho in the area, until slowly we see there might be light at the end of the tunnel. It's not definite and I won't be happy till I'm sure the problems are all sorted, but people are trying to get the boat moving again. Realistically if it doesn't start its last leg in the next few days then we are going to be delayed; however there is still a chance, and with everyone in Iquitos helping, you never know, we might be able to row the Amazon after all.