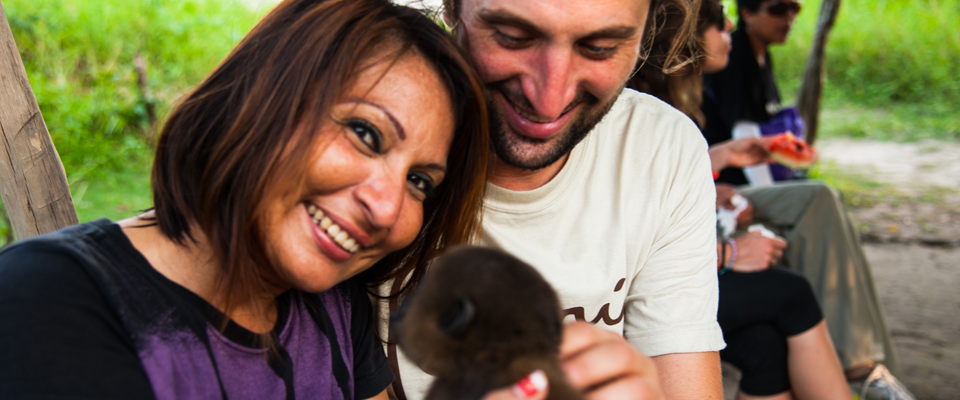 So a few nights ago Mark and I took Patti to the Karaoke bar, it was the second time we have been now and we knew that she wanted to go because as soon as we mentioned it her eyes lit up like Blackpool illuminations. I however really did not like the idea, I can shout but I can't sing and I had got away with it the last time because they accidentally lost my entry (I cancelled it). This time however, we were the only people in there and there was no escape. I chose indie rock music and Manchester bands of my youth, Mark chose Neil Diamond and Dire Straits, Patti had her own music to choose and she sounded wonderful. My initial thoughts were that she should be the singer of a local band and that maybe we could talk to a few Americans that we had met, to give her her big break in their local duo. Regardless the night continued, Pisco sours were drank (local beverage) and a great night was enjoyed by most.
So who is Patti Vasquez? To be honest we still really don't know, I had met her at last year's raft race along with a number of other people, I remember chatting in a random way as neither of us speak the others language, and we just generally had fun in the spirit of the event. When I knew we would be coming back I made contact with her again, along with many others, and she offered her help. We know that she works for the regional Director of Tourism but we do not know what her role is, we know that she has a moped because now she lets Mark and I use it during the day, we've stopped doing this after half a day due to traffic and we got really scared that we would damage it. We know that she can sing and likes Karaoke, but to be fair that is all we know, yet she has become such an important part of this attempt.
I don't know what Patti's typical working day is, but I know that, when she comes to the hotel in the afternoon, she carries with her a list of calls to make, or an email that has been sent and even files and documents for us to take. As soon as she gets here she tells us both something in Spanish, then grabs one of our laptops and heads straight for Google translate to get the message across clearly, then she will pick up our phone (local tariff) and make countless calls on our behalf to shipping agents and storage places, booking accommodation and excursions if we want them. We have lovingly given her the title of Race Manager and I can assure you that that is exactly what she is.
This evening she arrived with news of the boat, it has been delayed yet again - I panicked as I translated the word Friday in my head, yet she was calm and when she unpacked Google she explained that the road element of the transport had been delayed and that it would be only one day later, meaning we will get the boat on Monday now ready to start on Tuesday as planned. I will be happy with that as I just want it here and I will work on it through the night to get going on time. I don't think she realises it but she has saved me from having a mental breakdown regarding this attempt, one more delay with this boat and I will start dribbling into my cerveza and singing Abba at the Karaoke.
So now we need your help, we can't decide what to get for her as a present to show our appreciation at all the work she has done for us, and I hope that I have given you all an idea of how important she has been so please help us find inspiration for the perfect gift. Tomorrow we intend to go and have some photos of her and us developed and maybe framed as a token gift but we really want something more. Any ideas?