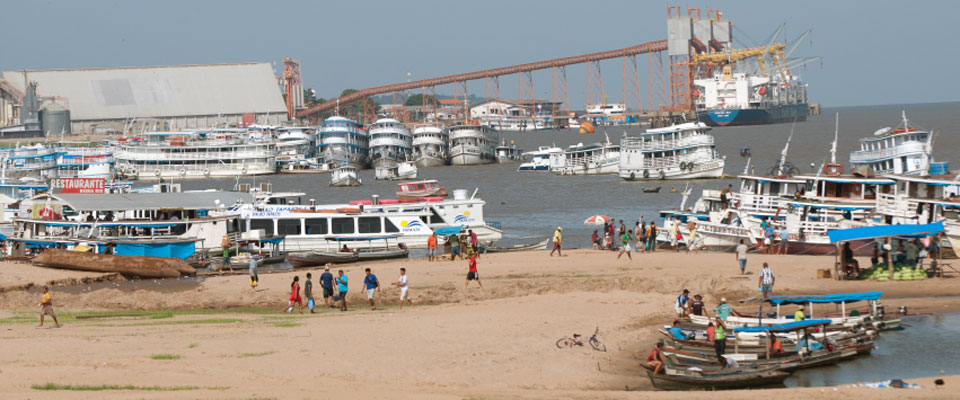 So I had written a large blog about the occurrences in Manaus yet what started yet again with the line "well what an eventful 24 hours" and was only supposed to be a short one-page recap ended up being a three-page, drama queen, blow-by-blow moan-a-thon. The moment for that blog has long gone because now we are what we set out to be in August; we are just two very good friends, neighbours even, doing something amazing and having an amazing time doing it. We have definitely had our ups and downs, we've even had side to sides and round and rounds, but the two things that have been constant throughout for me have been firstly the river and secondly Mark.
The river itself is a simple beast. It flows to the sea and won't be stopped by anyone or anything, and it carries huge trees along with it and provides life for everything around it. For us it provides stream, sometimes lots but mostly just enough, just when we think we have it, it moves away from us and when we give up it returns to surprise us. She also gives us shortcuts and hidden routes, shaving valuable miles off our trip, although mostly these shortcuts cause more problems as we end up getting beached or attacked by mosquitoes or wasps. One constant we have is the company of the dolphins who arrive to cheer us on a few times every day, our bright yellow boat attracting their attention, and the bats at night that devour the creepy crawlies that flock to our navigation light.
Mark however is less simple. Mark is the person that enabled this all to happen for me; Mark is the only person that I ever considered doing this with and there is a reason for that - Mark is so different from me yet so similar when it comes to the important points. I knew that Mark would never give up, and I know that at the end of all of this I will be able to look him in the eye and say "wow, how was that for you?" And he will be honest and tell me. We both have flaws but, now it is just the two of us again, these flaws seem to have disappeared; all the tension has gone out of our relationship and now we are enjoying ourselves again.
Naked photos are yet again being taken and silly jokes being played. We are now doing what we set out to do and that is to maintain the needs of the other. Mark forces me to finish my meals and checks I've taken my medication (malaria tablet); we discuss and amend rotas to improve our mental and physical state on a daily basis, and we play to our strengths; in conclusion it is exactly what I expected it to be like, just a little delayed in its arrival.
The weather has been both good and bad to us. We have had none of the storms that tore off our keel on the run into Manaus, yet we have had an almost constant back-breaking headwind that has taken all of the speed off our boat. We now dribble along at 4.5kmph and get annoyed, torturing ourselves with the maths of our arrival time and trying to second-guess our finish date. We never trust our calculations and at every shift change we check the mileage covered and another calculation is done to find our arrival date. We have a few methods, none of which are accurate, however my favourite is to check the "as the crow flies" distance and to try and take 100km off it every day. So far we have managed more. This means that we are covering more than that every day, most days much more, as the river meanders around to tease us.
We are now at a very important point for us - we have arrived in Santarém, our final stop before Macapá and our goal of rowing the length of the Amazon. There are so many stories to tell, comments to make, the time to point fingers and complain has gone and to be honest everything feels like a bigger deal when you are out here. Now it's time to focus on the team. Our team, the team that was created over a drink in the smallest pub in Cambridge, one that has the support of people from all over the world and has so many voices being heard on our little boat (thank you everyone), one that in less than one week should be setting a new time to beat, the only time to beat: to row the entire length of the Amazon river.