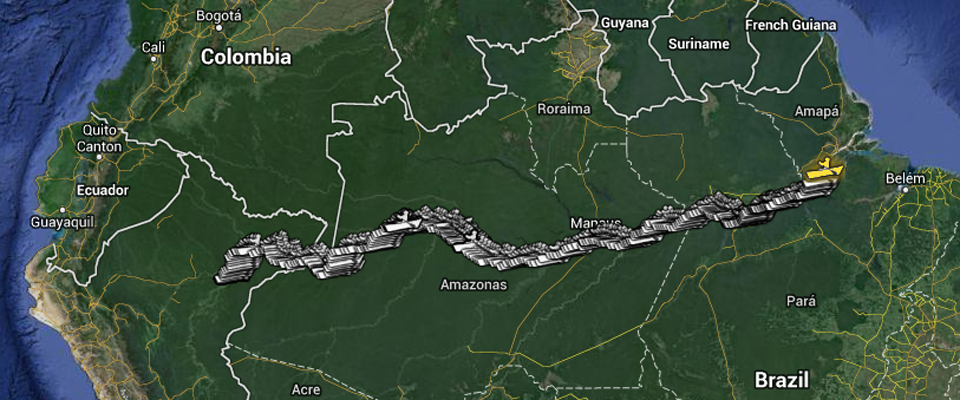 It's been a very eventful 24 hours; well, 36 hours to be fair. As Mark and I reached our final checkpoint we realised that we were going to make it, and even with a bit of time to spare. It's thoughts like that that catch you out though as suddenly we dropped out of 8/9kmph down to 1.5/2kmph. As we moved out of an island network we came head on with the full force of the tidal Amazon; we would battle on for 20 minutes just to break for water to see our meagre mileage taken back from us. We moved to the side and found the reverse current was stronger, then we just aimed for the middle to try and find gains. After an hour or so we decided that yes this was tidal and not just one huge whirlpool, and that to push for the side and drop anchor was the best plan. After an hour I was getting restless; I wanted to push on and get finished, and though Mark was still feeling under the weather, waiting here too long would ruin our chances so we battled on as soon as the stream reduced.
As we crawled up the river at 4kmph we could see an area on the GPS that promised calm water and hopefully stream so we aimed for this, an endless slog, and just as we were reaching our safe passage point we could see the signs that we dreaded most - a white fog was heading towards us and this meant only one thing: a storm.
We were no more than 200 metres from our target when the wind hit, followed by the rains. Holed up in the cabin we opted to let the boat drift rather than drop anchor as we lost our previous one doing that and we could also make ground if we were lucky. We weren't: as the storm calmed another one followed and when we finally left our cabin we found that we were resting on a sandbank. This one was different to the first; it was quicksand. I had come a cropper with sinking sand a couple of times already and I always thought it was a myth. This time though the boat was wedged 20 metres into a quicksand bank and try as we might we couldn't release it without wading into the water. As we sank up to our knees into the sand we realised that we had a battle on our hands; the boat had wedged in and the rudder bent to lock it in place. Mark pulled at the boat whilst I dug away at the rudder, arms deep in the water to free us. Slowly we made progress and finally we were free, albeit now with a damaged rudder. With Mark's condition deteriorating and a complete loss of communication we decided to head for a house at the side of the river.
As we neared the house we realised that there was a complicated array of sandbanks and as you would expect we found one again the hard way, then again, and as we struggled to free ourselves again we heard a familiar sound. Nipping across the water was a peki peki boat; a little boat driven by a long-shafted prop engine. We hollered and whooped, the local way of communication, and he twisted towards us. As he neared we could see that he was only a young boy, 14 years old at most, and as we gave all the signals and body language of two nice safe friendly Europeans we managed to engage him in conversation. We broke out the dictionary and slowly explained that we needed help and some advice. He saw another boat and whooped to it; it was actually quite nice to see a local boat get beached for a change as they tried to navigate towards us. Our new friend went and collected its driver and again the conversation via dictionary continued.
Eventually we were towed out of the sand traps to his house, where his father or possibly grandfather offered to help us by towing us across the river to where the currents lay. For the moment though his boat was stranded by the tides, so thankful yet frustrated we accepted and enjoyed a few hours' rest at his house. We were fed fresh fish, we drank acia (a local fruit drink), and chatted with his enormous family, all of whom came to visit us.
As we bedded down in the cabin for a brief sleep we realised that without this young boy we would have been in serious difficulties and without sounding too dramatic he probably saved our lives. Mark's condition was bad, we were both exhausted and one more storm without the protection of the pontoon would have had for our boat. There was also the fact that we were running desperately low on water and morale, so this brief encounter with a wonderful river family made an amazing difference to our attempt and without them we would still be floundering on the river now.
That's not the end of it all by any means but it is the start of our last leg. I'm sat in a cafe now at the airport and I will get the rest down as soon as I can. This is just the first part of our final chapter, and trust me the river had a sting or two left in her tail, but we will tell you more later.